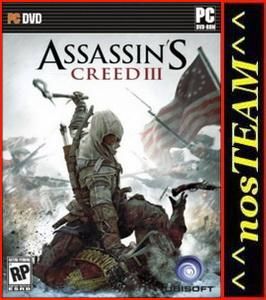 Games : Windows : Full Game : English
About the game:
Assassin's Creed 3 is a historical action-adventure open world stealth video game developed by Ubisoft Montreal and published by Ubisoft for PlayStation 3, Xbox 360, Wii U, and Microsoft Windows.
It is the fifth major installment and the third numbered title in the Assassin's Creed series, and a direct sequel to 2011's Assassin's Creed: Revelations.
The main portion of Assassin's Creed III is set before, during and after the American Revolution from 1753 to 1783, featuring a new half English and half Mohawk protagonist Ratonhnhake:ton "Ra-doon-ha-gay-doon", also known by the adopted name of "Connor".
In addition to the historical period, the game also features the "present day" setting, where series protagonist Desmond Miles must adventure to prevent the 2012 apocalypse, as his story develops and reaches a conclusion.
The game features a new engine, Anvil Next,built from the ground up, the engine is said to utilize full capability of current generation systems to deliver a "next-gen Assassin's Creed experience....
PC System Requirements
OS: Windows Vista (SP2) / Windows 7 (SP1) / Windows 8
Processor: 2.66 GHz Intel Core2 Duo E8200 or 2.66 GHz AMD Athlon II X4 620
Memory: 2 GB
Graphics: 512 MB DirectX 10 compliant with Shader Model 4.0 or higher (see supported list)*
DirectX: 10
Hard Drive: 10 GB
*AMD Radeon HD 4850 / 5000 / 6000 / 7000 series
NVIDIA GeForce 8800 GT / 9 / 200 / 400 / 500 / 600 series
Laptop versions of these cards may work, but are not supported. These chipsets are the only ones that will run this game.
Notes:
This version of game is already cracked - just install and play.
Include update patch 1.03
Include Tyranny of King Washington DLC (The Infamy).
Multiplayer - ripped.
How to install:
After download is done:
- open part1 (executable file) as Administrator ,
- choose location ,
- click install ,
- wait until is done
- play game from desktop shortcut.
If you like this game torrent seed it to others.
Enjoy .